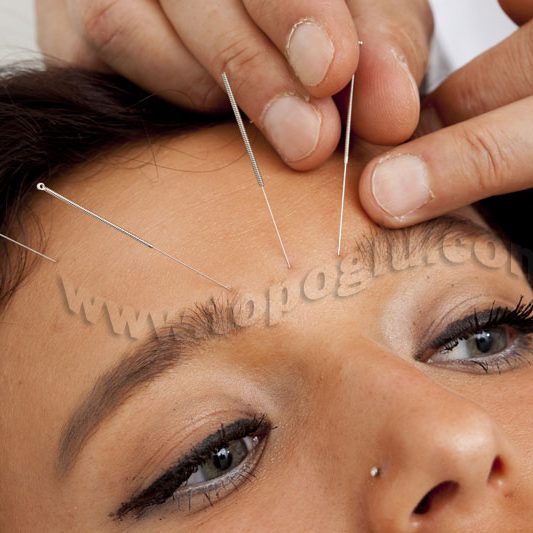 As all of us know, headache is the most common health issue for people. Headaches, above all things, are subjective events. They can be a sign of acute (short-lived) or chronic (continuous) diseases. If the headache is a sign of a disease (brain tumor, tonsillitis=inflammation of the tonsils, myopia, acute mesotitis, etc.) the first thing required is to remove the reason for this, and medical treatment is a must.
For this reason, headache ends with the removal of the reason. Thus, in which situations should acupuncture be used? Acupuncture can be safely used in the following situations:
1- All kinds of migraine and other vascular headaches,
2- Tension (muscular contraction) headaches,
3-Sinusitis (acute or chronic) antibiotic may be added or not added,
1- Headaches related to neck arthritis,
For a matter of fact, migraines do not respond to medical treatments even in this age. Acupuncture, which has been used for 5000 years and taught in all hospitals in China as a major, achieves good results up to 75-90% for Migraines. Acupuncture treatment should continue for 3 or sometimes 6 months. Acupuncture is applied for half hour sessions during every visit.
VERTEX HEADACHE:
1-TREATMENT: GV 20,SI 3,BL 67,LV 3
2-TREATMENT: GV 20,BL 7,LV 2,ah-Shi
FRONTAL HEADACHES:
ST 8 (Needle direction towards back),Yingtang (Ext 1),GV 23 (towards back)
LI 4 ST 44
LATERAL HEADACHES:
Taiyan (Ext 3),(GB 8,TE 3,TE 5,and GB 41 very important)
OCCIPITAL HEADACHES:
GB 20,BL 10,BL 60,SI 3,BL 62,
Ah-shi points are added in all these treatments. Sedative pricking (the act of puncturing with the needle) methods can be applied.
PROGNOSİS:
In headaches, treatment should be started after full classification of general Traditional Chinese Medicine. Sometimes headaches of patients cannot be fully classified. Sometimes it can be classified under two groups. On this condition, first, the last symptom of the disease is treated. Later on, treatment is done according to the ethiology in the beginning period of the disease. If the aches exist almost every day, sessions should be applied every day. 10-12 sessions are applied during the beginning of the treatment, with 7-10 days between each session. Treatment should first start with traditional Acupuncture. If there is no change in the aches in 3-4 sessions, the treatment should then be changed to electro-acupuncture. In electro-acupuncture, a combination of the points can be in various forms. For example, if the patient comes to the sessions for headaches, bilateral E.A can be applied to head points (GB 14,GB 20,BL 10,BL 2,Taiyang, ST 8, etc.), and in addition to this, LI 4,LV 3,ST 36,GB 34, etc. are for distal points. In this situation, acupuncture treatments should be 30 or 45 minutes in duration. It should not be forgotten that even if the aches of the patient lessen at the end of the treatment, aching may re-appear after 2-4 hours and this should be mentioned to the patient.
If the aches are not as often as in the past and they exist in less intensity when the patient comes to the second cure treatment, 6-8 sessions should be applied additionally, 2-3 times a week.
BAŞ AĞRILARININ MERİDYENLERE GÖRE SINIFLANDIRILMASI
TAIYANG
Baş Ağrısı: Özellikle oksipital ve boyunda olan ağrılar Tedavi için
genellikle el ve ayak Taiyang meridyeninde seçilmeli.
YANGMING
Baş Ağrısı: Frontal ve göze vuran baş ağrılarıdır. Tedavi için el ve ayak yangming meridyeni kullanılır.
SHAOYANG
Baş Ağrısı: Temporal veya parietal baş ağrıları şeklinde gelebilir. Tedavi için shaoyang meridyeni üzerindeki noktalar seçilmelidir.
JUEYİN
Baş Ağrısı: Vertikal ve göze vuran baş ağrıları, Tedavi için el ve ayak taiyang ve jueyin meridyeni üzerindeki noktaları kullanılır.
Bunlara göre:
VERTEKS BAŞ AĞRISI:
TEDAVİ: GV 20,SI 3,BL 67,LV 3
TEDAVİ: GV 20,BL 7,LV 2,ah-Shi
FRONTAL BAŞ AĞRILARI:
ST 8 (İğne yönü arkaya doğru), Yingtang (Ext 1),GV 23 (arkaya doğru)
LI 4 ST 44
LATERAL BAŞ AĞRILARI:
Taiyan (Ext 3), (GB 8,TE 3,TE 5,ve GB 41 çok önemli)
OKSİPİTAL BAŞ AĞRILARI:
GB 20,BL 10,BL 60,SI 3,BL 62
Bütün bu tedavilerde Ah-shi noktaları eklenir. Metod sedatif veya pricking (iğneyi batırıp çıkarma) yöntemi uygulanabilir.
BAŞ AĞRILARI EK TEDAVİ YÖNTEMLERİ:
Plum-Blossom teknik: Taiyang, yingtang, ah-Shi noktaları
Cupping Metot: Plum-Blossom'daki noktalar uygulanabilir.1. ve 2. Metotlar Özellikle:
– Eksojen nedenli baş ağrılarında
– Karaciğer yang hiperaktivitesinde
– Kan tıkanması baş ağrılarında uygulanabilir.
Scalp Akupunktur: Burada Sensoryel (duygusal) alan kullanılabilir.
ÖRN: Frotal ağrılarda,1/5 alt sensoryel tek ya da çift taraflı olarak kullanılır.
BAŞ AĞRISI TEDAVİLERİNDE İZLENECEK YOLLAR:
Baş ağrılarında genel T.C.M. sınıflandırılması tam olarak yapıldıktan sonra tedaviye geçilmelidir. Bazı durumlarda hastaların baş ağrıları tam olarak sınıflandırılamayabilir. Bazı durumlarda her iki guruba girebilir. Bu durumda önce hastalığın son gösterdiği semptomların tedavisi yapılır. Sonra da hastalığın başlama dönemindeki etiyolojiye göre tedavi edilir. Ağrılar hemen her gün ise; seanslar her gün uygulanmalıdır. Genellikle başlangıçta 10-12 seans bu şekilde uygulandıktan sonra hastaya 7-10 gün ara verilmelidir. Tedaviye önce klasik Akupunktur ile başlanmalıdır. Eğer ağrılar 3-4 seansta hiç bir değişme göstermemişse hemen elektro-akupunktura geçilmelidir. Elektro-Akupunkturda; noktaların kombinasyonu çeşitli şekillerde olabilir. Örneğin: Hasta seansa baş ağrısı ile gelmişse baş noktalarına bilateral E.A uygulanabilir (GB 14,GB 20,BL 10,BL 2,Taiyang, ST 8 v.s.) buna ek olarak distal noktalar olarak da LI 4,LV 3,ST 36,GB 34 v.s.bu durumda elektro akupunktur tedavisi 30 ya da 45 dk. yapılmalıdır. Hastanın tedavi sonunda ağrısı azalmış bile olsa ağrının 2-4 saat sonra tekrar eski şiddetinde başlayabileceği unutulmamalı ve hastaya belirtilmelidir. Hasta ikinci kür tedaviye geldiğinde ağrılar eğer eski sıklığında değilse daha az şiddette geliyorsa buna 6-8 seans ek olarak haftada 2-3 kez uygulanmalıdır.